Giant Plant Opened by Ministers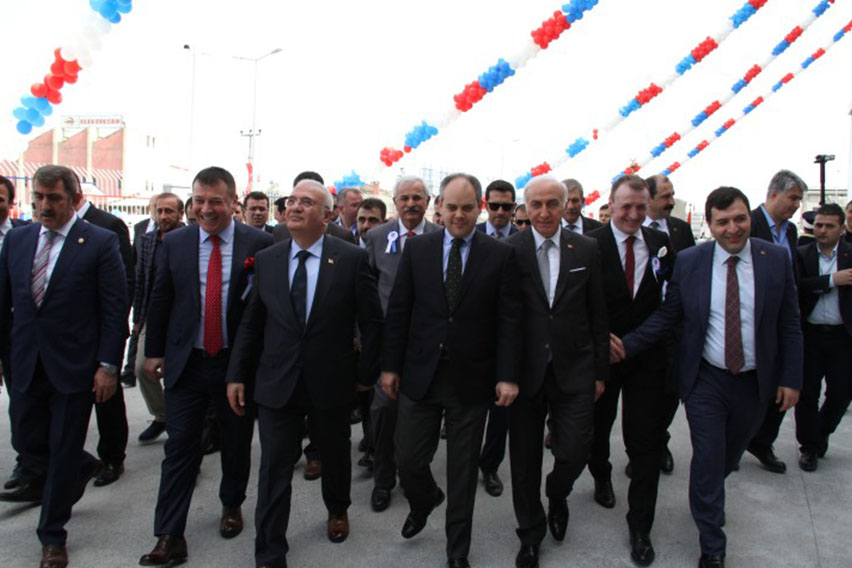 Turkey's second largest aluminum cable plant was opened by the Minister of Economy Elitaş and the Youth and Sports Minister Kılıç.
The Minister of Economy Mustafa Elitaş congratulated Borsan Group Chairman Adnan Ölmez on the fact that the giant plant that he opened in 7 months in Samsun is an important example in terms of describing the point reached by Turkey.
The opening ceremony of Turkey's second largest aluminum cable factory, which was established on a covered area of 40 thousand 500 square meters and cost 110 million liras in Samsun Central Organize Industry, was held.
Speaking at the opening speech, Borsan Group Chairman Adnan Ölmez said, "The Borsan Group has been operating with 15 companies within its 32 years of experience and 5 of these companies directly employ 2 200 people in Turkey. 4 continents export to 65 countries of the world and it is the market leader in 11 out of 65 countries that export. This is the best selling brand or the most trusted brand on the market and on the shelves in these countries. In previous years, we, as Borsan, have been producing quality goods in our country with national or international quality certificates or in the technological machines we use. But now we do not buy quality goods. Because this is now our standard as Borsan. You can build factories, but we know that building a brand is a tough job. We are working differently to move our mark to the point where we are now. Our new investment has a total closed area of 40 thousand 500 square meters, an open area of 7,500 square meters, an annual total of 25 thousand tons of aluminum smelting capacity on a total of 21 thousand square meters of land and employing 220 people directly. Land, infrastructure, building, machinery and operating costs cost a total of 110 million TL. We finished this building in 6 months. We finished the whole machine sub-structure in 30 days and started production on January 16, 2016, " he said.
WE ARE TAKING LARGE STEPS
The Minister of Youth and Sports, Akif Cagatay Kılıç, stated that important investments were made in various fields in Samsun. "There is an approach that has been put forward since the President of the Republic of Turkey in the period since the Prime Minister's office. I am here in Samsun I would like to say thank you to who is putting one stone onto another. This facility is 110 million TL. This investment was made in Samsun. Sometimes what is happening in Samsun, what is going on Samsun, what investments are made and there is some kind of exchange of ideas. We think that this facility is probably the biggest answer to these questions in the form of a skeleton. We are taking great steps to walk into the future. We work day and night to achieve this in unity and togetherness. We are also taking steps to do this. The point we are today is much better than in previous years. I hope we will be in much better places in the future. We will do this together. "